See Tickets partners with London's iconic KOKO
London's iconic KOKO, which will reopen in April 2022 after a £70m restoration and redevelopment, has selected See Tickets as official ticketing partner.
The 50,000 square foot state-of-the-art live music venue and broadcasting house will host live music and DJ performances from up to nine spaces, including the restored 19th century theatre and newly revealed, the historic 'Fly Tower' venue, as well as Café KOKO featuring intimate live performances.  KOKO's launch programme includes a three-night residency from Lianne La Havas and headline slots from Jorja Smith and Peter Doherty.
With innovation at the heart of the partnership, See will assign its UX team to work on projects including an integration with KOKO's membership platform and a continued evolution of the ticketing journey to offer customers quicker and smarter ways to book.  See Tickets' service will also include access control solutions, a branded ticketing site and digital marketing support.
Rob Wilmshurst, Global CEO at See Tickets said: "KOKO is a game changing new venue for the industry and See Tickets are so proud that the shareholders recognise our continual commitment to service quality and technical innovation.  We are very impressed with the imagination behind the development and we firmly believe it will raise the bar for the global venue sector."
Olly Bengough, KOKO's CEO/Founder said: "We are hugely excited that KOKO is returning to the people this Spring with such a dynamic new ticket provider like See  Tickets.  We hope to have a great partnership and look forward to working with their innovative tech solutions".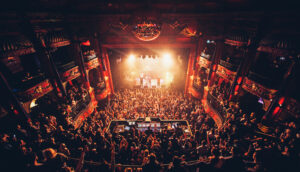 For more information on See Tickets contact kiren.pooni@seetickets.com 
Image: KOKO Theatre credit Sam Neil
About See Tickets
See Tickets is an independent, full service ticketing company headquartered in the UK with offices in 10 countries. Its music, venue and festival clients include Glastonbury Festival, SJM Concerts, U-Live, Crosstown Concerts, Boardmasters Festival, NASS Festival, Ministry of Sound, The Albert Hall Manchester and Alexandra Palace.
About KOKO
For more information contact laura@koko.uk.com
London's iconic KOKO, a favourite of Prince, Kanye West, Amy Winehouse, Madonna and Dua Lipa, will relaunch in spring 2022 after £70m of investment, as a state-of-the-art live music venue spanning 50,000 square feet, with ambitions to deliver an unrivalled experience for live music fans and with high spec streaming capabilities integrated throughout.
Founder and Creative Director Olly Bengough  masterminded the vision for the future of KOKO over a six year period, working with loving care and attention on the planning and restoration of the new building alongside English Heritage, Camden Council, Archer Humphryes (Chiltern Firehouse, The Peninsula Hotel – exterior architecture) and Pirajean Lees (interior architecture).
After three years of construction and restoration, overcoming challenges of a biblical nature – a blazing fire, colossal water damage and a global pandemic – Founder and CEO Olly Bengough has persevered with his ground-breaking vision to redefine live music and entertainment, with a mission to support and empower the next generation of musicians.
In the past KOKO has hosted over 500 shows per year, holding an exceptional legacy in helping to launch some of the most important musicians of the modern era from Dua Lipa, Amy Winehouse, Stormzy, Skepta, Dave, H.E.R, Childish Gambino, Brockhampton, Janelle Monae, Halsey and more, many of whom go on to become Grammy award winning stadium acts.
Whilst KOKO has always been a favourite of the stars, from Kanye West and Bruno Mars to Ed Sheeran and Coldplay, the new KOKO will continue on its mission to support and empower the next generation of musicians – by creating more spaces to artists to play and livestream in the building, supporting talent on the new KOKO Radio station and through the new KOKO Foundation.
The new venture is being launched in partnership with SISTER, the multi-award winning global content company behind productions such as Chernobyl and forthcoming titles such as This is Going to Hurt, with recent investments including Olivia Colman and Ed Sinclair's production company South of the River Pictures and podcast studio Campside Media.

We're an independent, full-service business with more than 8,000 clients globally operating in attractions, consumer events, music, festival, comedy, sport and theatre sectors.